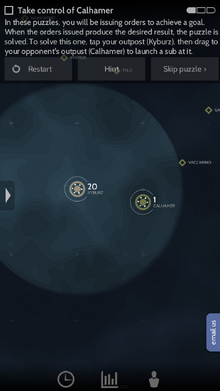 Combat 1 is the first of the 24 Puzzles in Subterfuge.
Description
Edit
Take control of Calhamer
In these puzzles, you will be issuing orders to achieve a goal. When the orders issued produce the desired result, the puzzle is solved.
To solve this one, tap your outpost (Kyburz) then drag to your opponents outpost (Calhamer) to launch a sub at it.
Use the roller to load up enough drillers to take over Calhamer.